DESCRIPTION
Discover why housestaff and faculty worldwide depend on this best-selling medical text – both in print and eBook format! Concise and user-friendly, The Washington Manual of Medical Therapeutics, 35th Edition, focuses on the essential information you need to know for successful patient care. Written by residents who are assisted by faculty co-authors and an outstanding editorial team, this must-have reference presents brief, logical approaches to diagnosis and management of commonly encountered medical conditions, including new therapies that improve patient outcomes. Thoroughly updated throughout, the 35th Edition provides a clear view of the challenges faced by residents, interns, medical students, and other practitioners, plus offers practical solutions, and expert guidance – all in one convenient and easily accessible source.
Features:
Now with the print edition, enjoy the bundled interactive eBook edition, which can be downloaded to your tablet and smartphone or accessed online and includes features like:
The Washington Manual is a registered mark belonging to Washington University in St. Louis to which international legal protection applies. The mark is used in this publication by LWW under license from Washington University.
Xem thêm:
DETAILS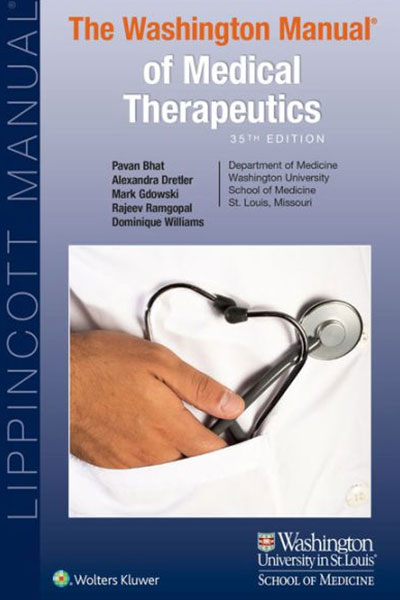 REVIEWS
EXCELLENT! A must have. I am an ACNP student and used this for my internal medicine rotations. The more I read, the more and more I loved it. I even used it to review/study for some of my tests. I also carry it with me to work or anytime I am working in the hospital. 100% highly recommended for everyone!
— Emily Pogue. ACNP student