DESCRIPTION
Over the past two decades it has been increasingly recognized that whole-body ultrasound is an invaluable tool in the critically ill. In addition to offering rapid whole-body assessment, it has the advantage of being a bedside approach that is available at all times and can be repeated at will. Accordingly, it permits the immediate institution of appropriate therapeutic management.
Whole-Body Ultrasound in the Critically Ill is the sequel to the author¹s previous books on the subject, which were first published in French in 1992 and 2002 and in English in 2004. This new volume reflects the latest state of knowledge by including a variety of improvements, revised definitions, and updated algorithms. Findings in respect of individual organs are clearly presented, and a particular feature is the in-depth coverage of the lungs, traditionally regarded as an area unsuitable for ultrasound.
Throughout, the emphasis is on the practical therapeutic impact of the technique. Its value in a variety of settings, including unexplained shock, management of hemodynamic instability, acute respiratory failure (the BLUE protocol), and the critically ill neonate, is carefully explained. Interventional ultrasound and less widely recognized applications, such as mesenteric infarction, pneumoperitoneum, and intracranial hypertension, are also described. Pitfalls of the technique receive due attention. Today, whole-body ultrasound touches upon every area of critical care.
This book, from the chief pioneer in the field, shows that the technique enables critical care physicians to detect therapeutically relevant signs easily and quickly. It will serve as an invaluable guide to the practice of this new form of visual medicine.
DETAILS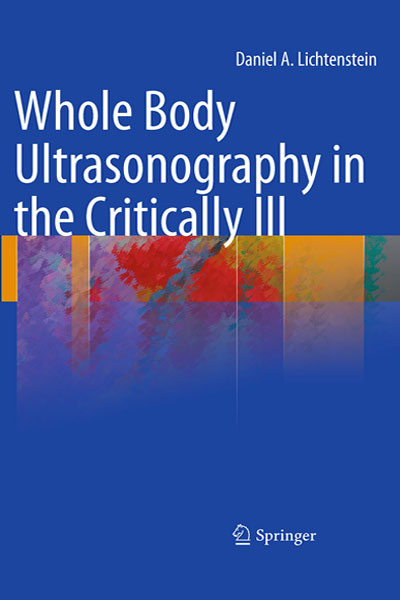 REVIEWS
Intensivists or radiologists with an interest in critical care applications of ultrasound are the intended audience for this work, edited by one of the fathers of critical care ultrasound… This edition expands coverage of the abdomen and vascular system and increases the emphasis on the evaluation of deep venous thrombosis, pleural effusion, interstitial disease, and pneumothorax… Chapters are written in a conversational style… this remains an effective overview for intensivists.
— David J. Dries, Doody's Review Service, December, 2010

Xem thêm: