DESCRIPTION
Part of the highly regarded Specialty Imaging series, this fully updated second edition by Drs. Santiago Martínez-Jiménez, Melissa L. Rosado-de-Christenson, and Brett W. Carter, reflects the many recent changes in HRCT diagnostic interpretation.
An easy-to-read bulleted format and state of the art imaging examples guide you step-by-step through every aspect of thin-section CT and HRCT in the evaluation of patients with suspected lung disease.
This book is an ideal resource for radiologists who need an easily accessible tool to help them understand the indications, strengths, and limitations of HRCT in their practice.
DETAILS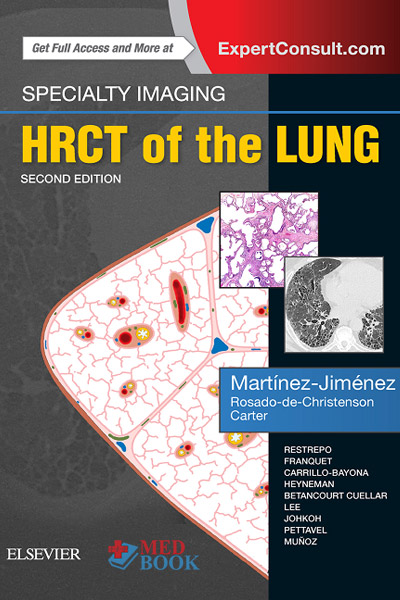 REVIEWS
The book covers the whole spectrum of diseases of the chest imaged HRCT. The coverage of interstitial lung diseases is particularly excellent. Plentiful illustrations accompany the text, as is necessary for a subject of this nature. It is notable that the book pays good attention to differential diagnoses for each condition, as well as differentiating factors to weigh each of them, which is of direct value in day-to-day clinical practice…. This new edition is a valuable update of its predecessor, and an excellent addition to the field. This is a great resource for both reference and complete review.
— Reviewed by Nikhil Madhripan, MD (Baystate Medical Center) Doody's Score: 92, 4 Stars!
SÁCH Y KHOA HAY
SÁCH Y KHOA TIẾNG ANH
SÁCH SINH VIÊN Y KHOA
SÁCH DỊCH Y KHOA
PHẦN MỀM Y KHOA
SÁCH SONG NGỮ Y KHOA
MEDICAL BOOKS FREE
MEDICAL BOOKS PDF