DESCRIPTION
Excel on the USMLE Step 1 with help from the world's most popular medical review book!
Written by students who recently passed the exam and reviewed and approved by top faculty, First Aid for the USMLE Step 1 provides the most high-yield topics and concepts found on the USMLE Step 1 exam. Every medical student turns to First Aid during their coursework, as well as during their Step 1 prep. Each annual edition is thoroughly revised, by bringing together the expertise and experience of numerous students and faculty. You'll find everything you need to excel on the exam.
First Aid™ remains the most trusted name in USMLE review―just ask any medical student!
First Aid for the USMLE Step 1 2022, Thirty-Second Edition features:
DETAILS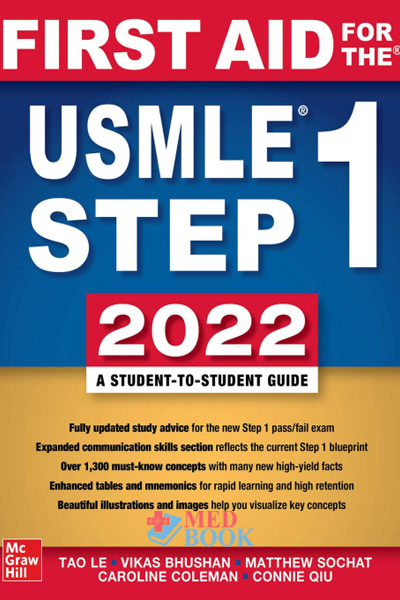 REVIEWS
First Aid is basically the bible for med students, so here I am, worshipping at the altar of our lord and savior McGraw Hill. It's concise and to the point which makes studying easier and more efficient. I use it with Picmonic since they have a page by page follow along feature that lets me look up any mnemonics they have for the topics on a given page/chapter. Then I review everything with UWorld.
I do wish I bought this sooner to help identify high yield info earlier on in school. Long story short, First Aid is a must-have for anyone preparing for Step 1!
SÁCH Y KHOA HAY
SÁCH Y KHOA TIẾNG ANH
SÁCH SINH VIÊN Y KHOA
SÁCH DỊCH Y KHOA
PHẦN MỀM Y KHOA
SÁCH SONG NGỮ Y KHOA
MEDICAL BOOKS FREE
MEDICAL BOOKS PDF